Building a Turf Bench: Michael Bond Final Project
Turf benches were a popular addition to medieval gardens. They provide a comfortable place for one to rest with the comfort of grass as a cushion. Typically they were either rectangular, curved, or in circular shapes, sometimes wrapping around trees. I would like to make a turf bench that reclines in a soft "v shape" that fits the contour of a reclining person. A combination of recycled bricks and wood should make a nice structure. I am choosing a perennial ryegrass because of its resistance to bugs and temperature fluctuations.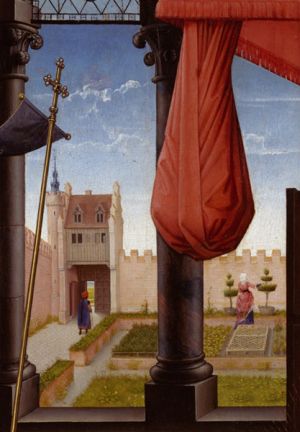 This painting by Hans Helming illustrates in this detail how a turf bench can be incorporated into a garden.
My first step is to sprout the seeds indoors until it is warm enough to move the grass outside. For this I will need a container with a screen at the bottom to drain from. For this I will use scrap plywood. Once the grass has sprouted and grown a few inches I will have to transplant it into the bench structure. I am still a bit unsure about the soil type and where I will get the soil from.